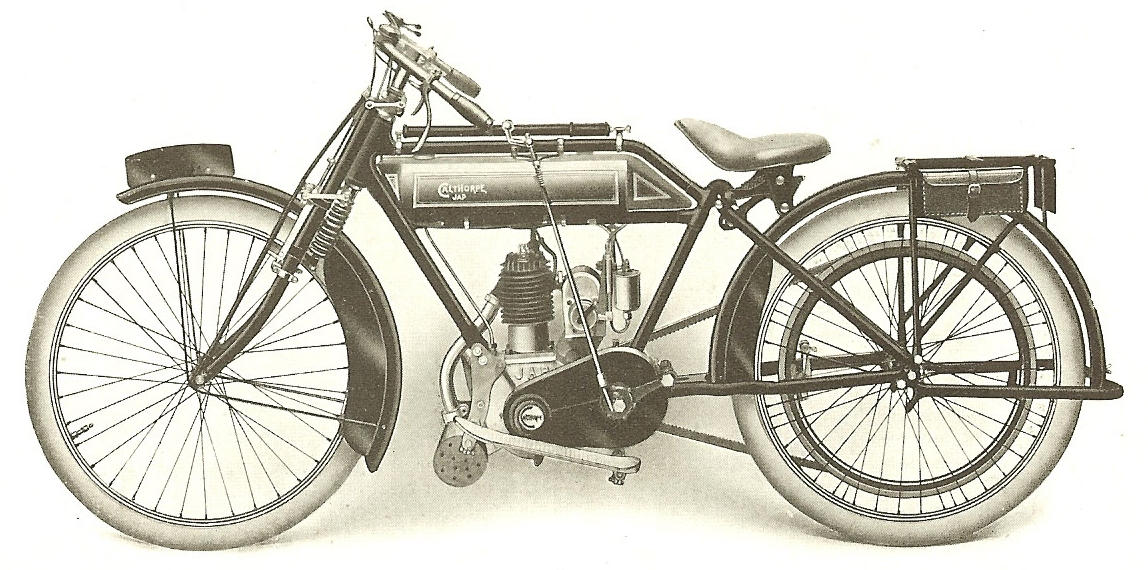 Appearance As picture 
Specification
Engine - 2 3/4 h.p., 70 m.m. x 76 m.m. bore and stroke with a capacity of 292 c.c.
Carburettor - Senspray.
Ignition - High-tension Magneto.
Tank - Enamelled Black and English Gold leaf lined, fitted with Best & Loyd's sight-feed lubrication. Capacity 1 1/4 gallons petrol, 1 quart oil.
Two-Speed Gear - Enfield Patent Two-Speed and Free Engine, with cush sprocket.
Transmission - Two roller chains to two-speed gear. 3/4.in. belt off gear pulley to rear wheel.
Wheels - Heavily plated steel rims with coloured centres, oil retaining and dust proof.
Tyres - 26in. x 2in. Moseley Beaded Edge Studded Tyres.
Frame - Dropped top tube, built of the finest Weldless Steel Tube throughout, the main tube spirally lined giving immense strength.
Forks - Druid Patent Girder Spring.
Saddle - X'L All patet pan seat.
Completw with rear stand and carrier, wide mudguards, tool kit, armoured Pannier Bag, inflator.
Finshed in four coats of lustre enamel, and all bright parts heavily plated. 
Extras
Can be supplied as a single speed machine foir reduced cost.
Notes
Additional Information  - (Available to members in downloads section)
1915 Sales Brochures x 2
"Calthorpe" Two-Stroke Engine Booklet (PECO)
Advertisements as published in 1915
Sources