1923 2 ½ h.p. "Calthorpe Two-Stroke" Single-Speed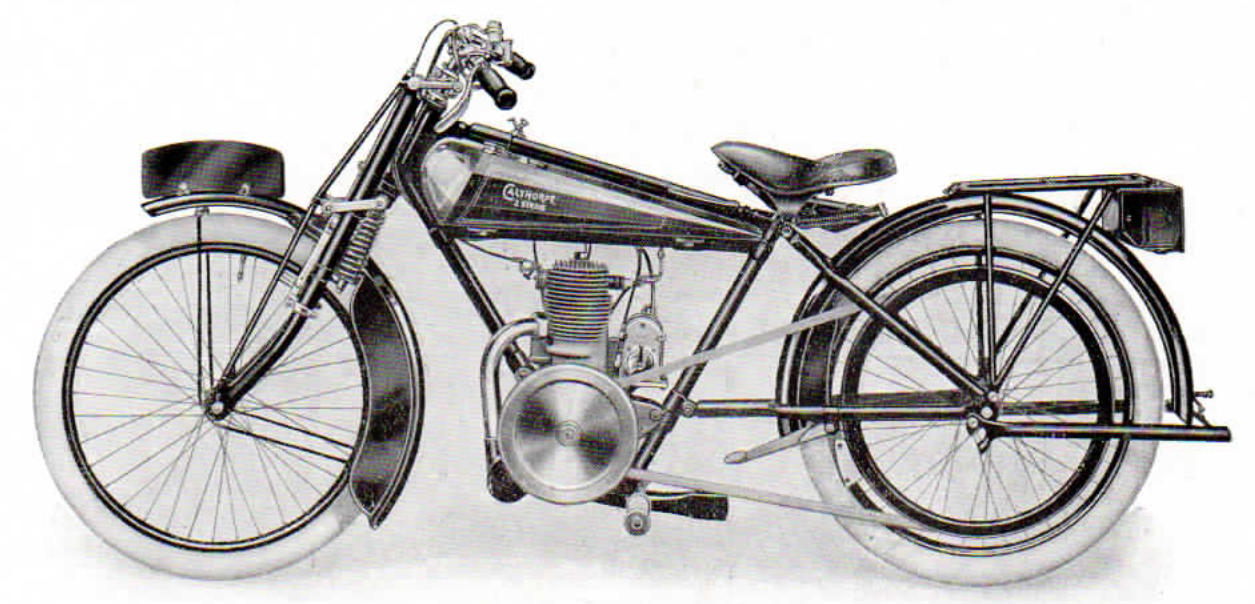 Appearance As picture
Specification
Engine - 2 ½ h.p. PECO, 67mm. bore x 69mm. stroke having a capacity of 243c.c. Two stroke of the three port type. Heavy Phosphor Bronze Bearings of large dimensions. Roller bearing to big end of connecting rod.
Carburetter - Mills, single lever.
Ignition - High-tension variable C.A.V Magneto, handle bar control.
Tank - 1 ½ gallons petrol, 1 quart oil.
Lubrication - "Patent and perfect system" (No oil mixed with petrol), through a sight drip feed Lubricator.
Transmission - ¾in. belt from engine pulley to rear belt rim.
Frame - Weldless steel tubing, all vital parts reinforced, Patent Girder, spring forks.
Brakes - Foot pedal operated Block on Belt Rim, powerful Bowden front brake.
Wheels - 24in. x 2 ¼ in. Dunlop Beaded Edge Studded tyres, oil retaining dust and weather proof hubs.
Standard Fittings - Patent Spring Pan seat, rear stand, carrier, strong wide mudguards, Pannier Bag with tools.
Extras
Notes
Additional Information - (Available to members in downloads section)
1923 Sales Brochures. (2-Stroke Lightweights, Blackburne & Lightweight Combination Models)
The Motor Cycle, Nov. 30th, 1922 - The Olympia Show Report Artice.
The Motor Cycle, Nov. 23rd, 1922 - Mills Carburetter Advertisement.
 Sources