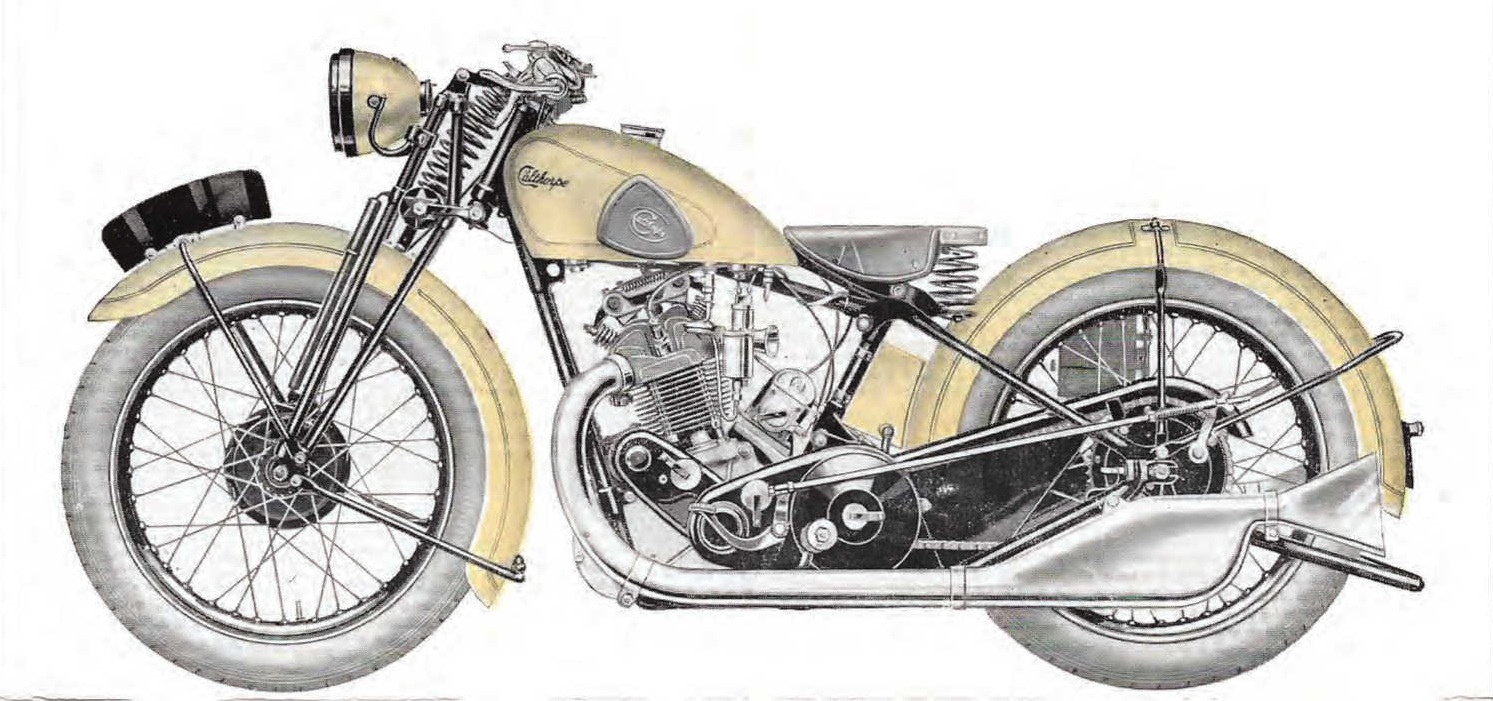 Appearance As picture 
Specification
Engine: 3 1/2 h.p. two-port O.H.V. design having a bore of 74 mm and a stroke of 81 mm giving a capacity of 348 c.c. Dry sump lubrication.
Carburettor: Amac T.T. Type controlled by twist grip and seperate air lever.
Magneto: B.T.H. with variable ignition controlled from the handlebar.
Petrol tank: 2 1/4 gallons capacity.
Forks: Girder spring fork design with central spring, shock absorber and steering damper.
Gearbox: Pivot type Burman three-speed with 3-plate clutch and kick starter. Hand change from petrol tank.
Transmission: Roller chain throughout, front primary chain being totally enclosed in a one-peice welded steel chain cover.
Wheels: 6 in. internally expanding hub brakes. Fitted with 26 in. x 3.25 in. wired-on  North British Cord Tyres.
Mudguards: 6 in. wide and 2 1/2 in. deep of semi-circular design.
Front and rear stands, Lycett spring seat saddle.
Tank and mudguards finsihed in Calthorpe ivory white suitably lined and transferred. All black cellulose finish optional.
Extras
Miller lighting set.

Lucas lighting set.

Special pillion footrests.
Notes
Oil is circulated via the timing gear teeth as an oil pump. The idea was patented by Ken Griffiths who was the works manager in 1929 and allowed Calthorpe to claim the engine had fewer moving parts than other similar engines.
Notable changes from 1929 model: Complete redesign of engine, now of sloping design, change to centre spring from Druid side spring forks.
Additional Information  - (Available to members in downloads section)
Complete 1930 sales brochure.
1930 350cc Instruction Book and Spare Parts List.
Estimate production and known surviving machine figures.
Sources
1930 Ivory Calthorpe sales brochure.
1930 Instruction Book & Spare Parts List.