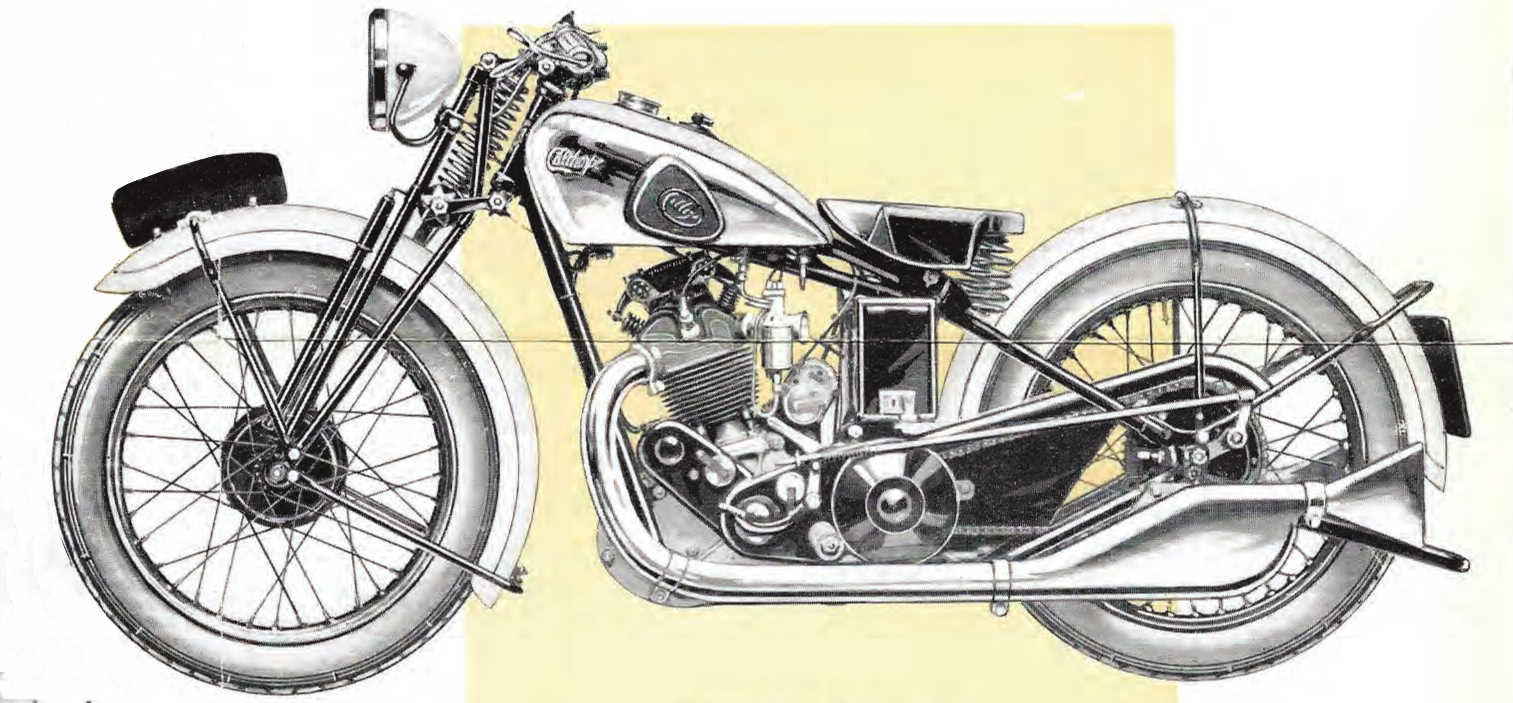 Appearance As picture
Specification
Engine - 3 1/2 h.p. Two-port OHV design, 74mm bore x 81mm stroke having a capacity of 348 c.c. Aluminium piston, dry sump lubrication.
Carburettor - Amac T.T type, controlled by a twist grip and seperate air level.
Petrol Tank - 2 1/4 gallons capacity. Chromium plated with ivory top, insetted with a rectangular instrument panel incorporating the lighting switch, ammeter, oil pressure gauge and quick release filler cap.
Front Forks - New Druid design.
Transmission - Roller chain throughout, totally enclosed and lubricated from the engine.
Gearbox - Special Calthopre four-speed (made under Albion patents), hand change.
Wheels - 6inch internally expanding brakes.
Tyres - 26in. x 3.25in. Dunlop heavy 4-ply cord studded.
Mudguards - 6in. wide and 2 1/2in. deep, semi-circular section.
Electrics - Fitted standard with magneto ignition.
Front and rear stands, Terry heavyweight de Luxe saddle.
Finished in Calthorpe Ivory or ebony black at option, and lined to suit the colour.
Extras
Smiths chronometric speedometer with internal front wheel drive.
Electric horn.
Magneto ignition and Miller S.U.S. lighting set.
Miller coil ignition lighting set.
Notes
Notable changes from 1930 model: Introduction of petrol tank instrument panel, Change from Burman 3-speed to Albion 4-speed gearbox, Oil pump added with provision for pressure control on timing-side crankcase.
Additional Information  - (Available to members in downloads section) 
1931 350cc Ivory sales brochure.
1931 350cc Instruction Book and Spare Parts List.
Estimate production and known surviving machine figures.
Sources
 1931 Ivory Calthorpe sales brochure.