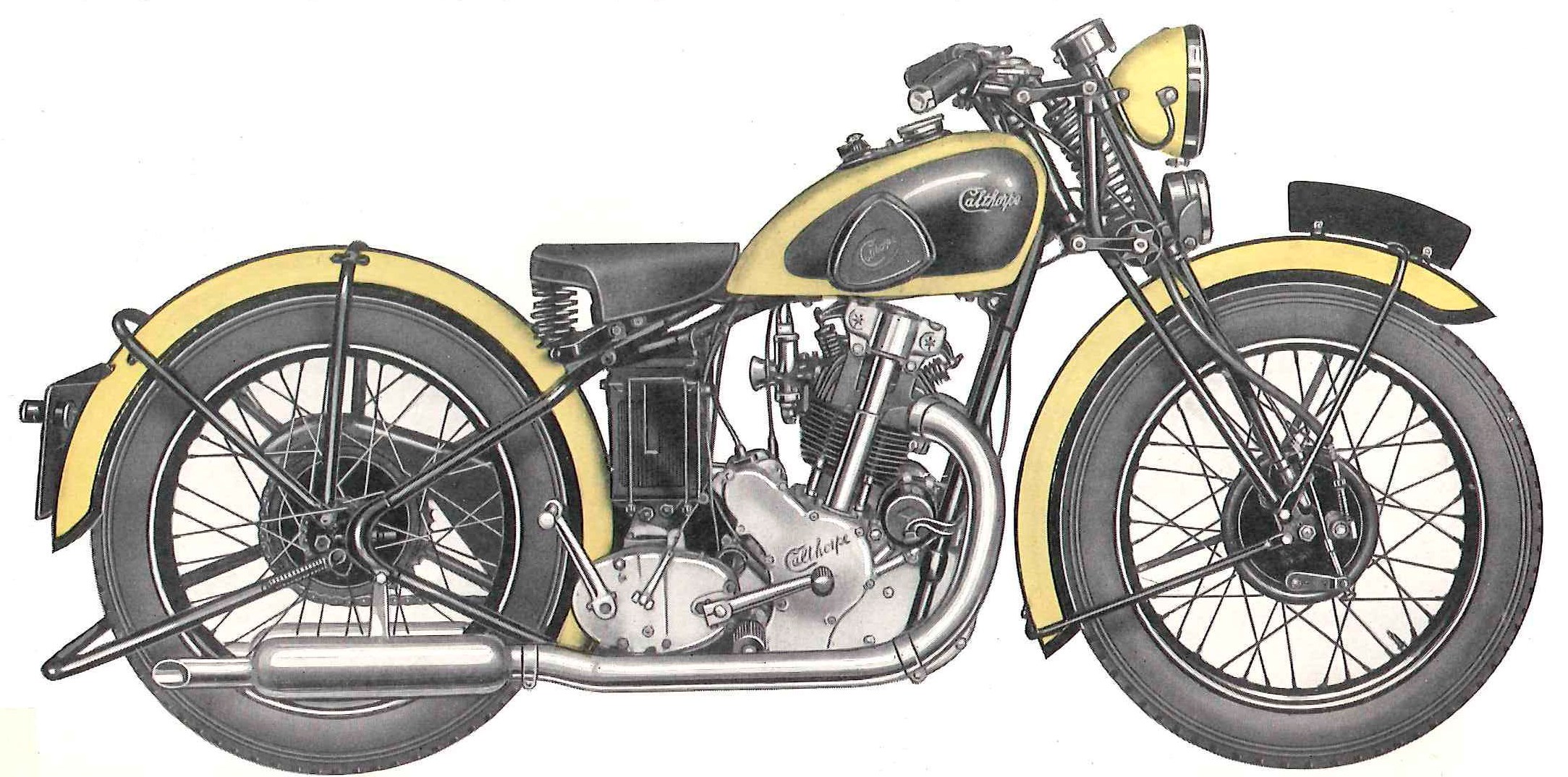 Appearance As picture 
Click here for left-hand side view
Specification
Engine - Two-port OHV design, 74mm bore x 81mm stroke having a capacity of 347 c.c. Aluminium piston.
Carburettor - Amal T.T type with twist grip control to throttle and magneto and separate air levers on Amal 'clean bar' type handlebar.
Magneto - B.T.H. Spigot mounted and chain driven.
Petrol Tank - 2 3/4 gallons capacity. Enamelled and lined. Inserted rectangular instrument panel.
Front Forks - Girder type of Druid manufacture.
Transmission - Chain to primary drive, enclosed in an oilbath gearcase with oil feed to primary and dynamo chains.
Gearbox - Burman four-speed with 4-plate clutch, enclosed foot change or hand change option.
Wheels - 7inch internally expanding brakes.
Tyres - 26in. x 3.25in. Dunlop W.O.
Electrics - Miller 6v coil ignition or separate dynamo and magneto as required. 8 inch Miller headlight.
Front and rear stands, Terry heavyweight de luxe pattern saddle.
Finished in Calthorpe Ivory or ebony black at option, and lined to suit the colour.
Extras
Trip or Non-Trip Speedomater built into front wheel and mounted on front forks.
Chromium-plated tank.
Specially tuned Racing Engine with optional Upswept Exhaust Pipes at request.
Notes
Additional Information  - (Available to members in downloads section)
Complete 1935 sales brochure.
1935 350cc and 500cc Instruction Book and Spare Parts List.
Estimate production and known surviving machine figures.
Sources
 1935 Ivory Calthorpe sales brochure.